If you have been keeping up with the following trends, then you might have the words "Blockchain", "Cryptocurrency" and "Bitcoin" already. It's one of latest and most popular trends in the information world, having gained alot of popularity over the last few years (and its rising). You might not really understand it though, or maybe you want to learn more about. Hence, we have compiled together some of the Best Books that we could find on the Blockchain and Cryptocurrency, here for you to read.
The list of Books that we personally selected (after careful reviewing and vetting):
Cryptoassets: The Innovative Investor's Guide to Bitcoin and Beyond
Blockchain Basics: A Non-Technical Introduction in 25 Steps 
Blockchain Bubble or Revolution: The Future of Bitcoin, Blockchains, and Cryptocurrencies
Mastering Blockchain
The Basics of Bitcoins and Blockchains
Crypto Investing Guide: How to Invest in Bitcoin, DeFi, NFTs, and More 
The Only Bitcoin Investing Book You'll Ever Need
---
Cryptoassets: The Innovative Investor's Guide to Bitcoin and Beyond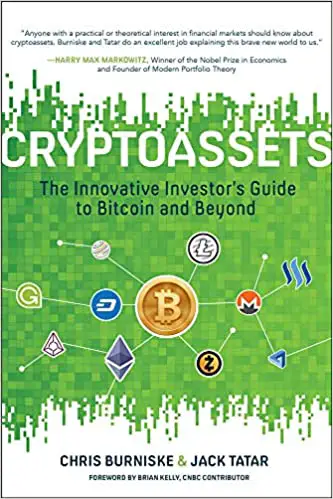 Author: Chris Burniske, Jack Tatar  
Publication Date: October 19, 2017
Pages: 368
The book Cryptoassets provides us with a concise overview of a rapidly emerging market, and teaches investors how to capitalize on the greatest investment opportunity since the Internet first came into being.
"Cryptoassets: The Innovative Investor's Guide to Bitcoin and Beyond", starts off with a little history lesson, beginning with the 2008 financial crisis that leads into how Bitcoin and other cryptocurrencies came into being. For beginners with no idea about Cryptocurrency or the Blockchain, this book will explain everything to you from the beginning.
The book looks at blockchain from a financial perspective, with the target audience being investors, rather than programmers. You will learn how to identify and value cryptoassets, portfolio management techniques to maximize returns while managing risk, and many other important terminologies and nessacery techniques required to a be a successful trader.
---
Blockchain Basics: A Non-Technical Introduction in 25 Steps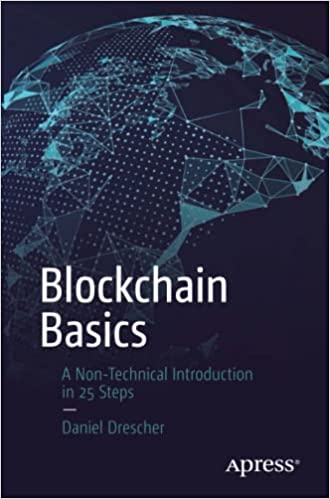 Author: Daniel Drescher 
Publication Date: March 16, 2017
Pages: 270
As the Title says, this book will introduce beginners to world of Crypto and Blockchain in 25 concise and clear steps. The book is written in a very non-technical way, with no mathematical formula, program code, or complex jargon. In short, you need no prior knowledge about any of these subjects before beginning this book.
The Book explains how the Blockchain and Cryptocurrency works through a series of engaging analogies and detailed diagrams and pictures.
Another goal this book sets out to do, is to act as intermediate between the highly technical books, and the highly business books on this topic. Instead of just teaching you the required technical concepts, it also demonstrates how they can be applied in the business world.
Overall, a highly recommended, and well-rounded book for beginners looking to understand the Blockchain.
---
Blockchain Bubble or Revolution: The Future of Bitcoin, Blockchains, and Cryptocurrencies
Author:  Neel Mehta, Aditya Agashe, Parth Detroja  
Publication Date: June 12, 2019
Pages: 331
This book touches a rather controversial topic, addressing the heated debate about the future of Bitcoin and Cryptocurrencies. On side we have analysts claiming it's a scam with no future viability, whereas others claim "it's the most important invention since the internet". Which side is right? That's the question that this book will answer for you.
The Book covers a surprisingly wide range of topics, starting off from the history of Bitcoin and how it works. It explains all of this without going too deep into technical details, so it's beginner friendly. It then moves onto the applications and uses of the Blockchain & Crypto, explaining this along with several Case studies involving real-life companies.
Once you've properly understood the basics, the book takes the readers for a deep dive into the technical, economic, political, and legal complexities involving the Blockchain and Cryptocurrencies. Finally it finishes rounds up by talking about the future decentralized technology.
---
Mastering Blockchain: 3rd Edition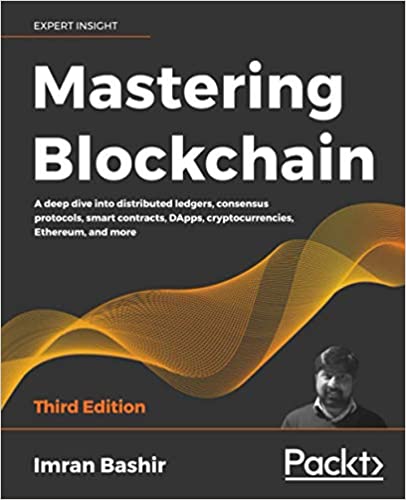 Author: Imran Bashir
Publication Date: August 31, 2020
Pages: 816
Mastering Blockchain, is a detailed technical reference guide on the Blockchain. Its goal is to help you understand the mechanisms behind Bitcoin, Ethereum, and other cryptocurrencies.
You will learn about concepts such as decentralization, cryptography, and consensus protocols, smart contracts and much more. It's not just theory though, you will also get to develop decentralized applications using tools like Solidity, Remix, Truffle, Ganache and Drizzle.
The Blockchain is a relatively new field, so most people are still starting out. Because of this, most of the books here in our list are (mostly) non-technical as they are more beginner friendly. For those who already have some knowledge or are willing to take up the challenge, this book is for you!
---
The Basics of Bitcoins and Blockchains
Author: Antony Lewis
Publication Date: April 13, 2021
Pages: 408
While Bitcoin and the Blockchain are very popular topics today, many still don't understand how they work, and more importantly, they don't know how to take advantage of the current market and take a cut of the profits.
What exactly is a blockchain, how does it work, and why is it important? How are payments for cryptocurrencies made? How do I know how much a cryptocurrency is worth? This Book makes it its goal to answer all of these questions for you.
You will also learn about how to stay safe while investing (from scams and risky investments), how to mitigate risks and gain a deeper understanding of cryptocurrency exchanges, digital wallets, and their regulatory policies.
---
Crypto Investing Guide: How to Invest in Bitcoin, DeFi, NFTs, and More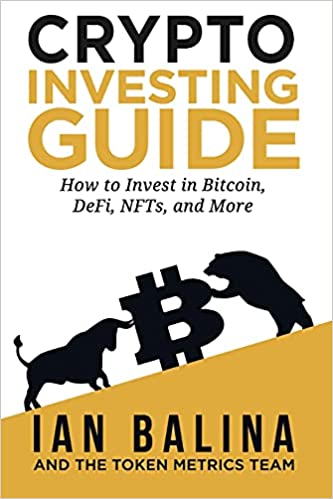 Author: Ian Balina
Publication Date: September 7, 2021
Pages: 212
This book makes a lofty claim, that this is the only book you'll ever need for a complete education in all crypto investing topics.
Crypto Investing Guide will embark its readers on an educational journey, starting in the world of conventional finance before delving deep into crypto assets, decentralized finance, NFTs, and security token offerings.
You will be given deadly working knowledge of the crypto market, and the various technologies that have risen around it such as Bitcoin, DeFi, NFTs and more. If you are looking for a short introductory book into Crypto-Investing, this is the Book for you.
---
The Only Cryptocurrency Investing Book You'll Ever Need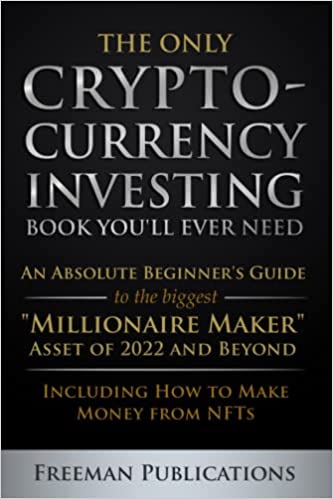 Author: Freeman Publications
Publication Date: January 28, 2022
Pages: 142
A very modern book, published in year 2022, that teaches the best ways (and hacks) of making alot on money off Cryptocurrency Investing.
The Book introduces you to the various types of Cryptocurrencies, guides you on where to invest, how to avoid scams, how to identify red flags, and most importantly how to become a successful long-term investor. It also talks about some newer trends like NFT's (and how to invest in them) which have only recently become popular.
If you are looking for a very money-making oriented book on cryptocurrencies, then this is the one for you!
---
This marks the end of the Best Books about Blockchain and Cryptocurrency article. Any suggestions or contributions for CodersLegacy are more than welcome. Questions regarding the article content can be asked in the comments section below.