Ezoic is a powerful platform for website owners to optimize their website's performance and monetize their traffic. However, sometimes Ezoic ads will not be showing on your website, which can affect your revenue and user experience (due to blank spots). In this article, we will discuss 7 reasons why your Ezoic ads may not be showing on your website and provide solutions to troubleshoot them.
---
1. Newly setup Ezoic account
If you have just set up your Ezoic account, it may take some time for the ads to start showing on your website. Ezoic's platform needs to gather data and analyze your website's performance before it can optimize your placeholder layout.
Wait atleast 24 hours after you have successfully setup your Ezoic account. Try viewing your website in incognito mode or through a VPN to double check whether ads are showing or not.
If more than 24 hours have passed, something else is the problem.
---
2. Incorrect Setup
One of the most obvious issues is that the configuration was not done properly. Ezoic can be integrated into your site in multiple ways, and can actually get a little complex depending on the method used. We have an entire article dedicated to explaining how to setup Ezoic, and another article on how to resolve common problems that can occur during the configuration.
Another good option is to simply contact the Ezoic representative helping you with the onboarding process. They are usually very responsive during the setup process, and will often solve many of your problem for you.
---
3. Not approved by Google
It is a well-known fact, that any major Ad network like Ezoic, Mediavine, or Adthrive require you to be approved by Google AdSense. Make sure you have a Google AdSense account setup, and you have gotten yourself approved.
---
---
4. Ad Blocking Software
One common reason why Ezoic ads may not be showing on your website is because of ad blocking software or browser extensions. These tools can prevent ads from loading on a webpage, including Ezoic ads.
The only real way of dealing with this is to use a popup window asking the users to turn off their ad blockers (I'm sure all of us have seen one of these).
If you are just trying to view the ads yourself, your ad blocker might be on. Turn it off, or exclude your website from it to view your ads.
---
5. Low placeholder density
The density of your ad placeholders is an important factor that can affect the visibility of your ads. If you do not have enough placeholders, or if you didn't set any up at all, no ads will show.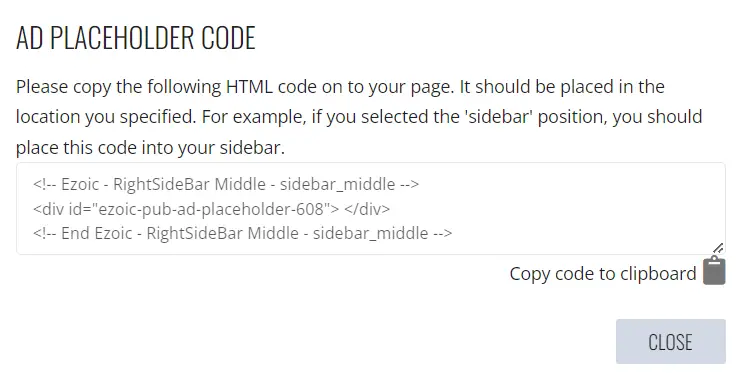 You can either use the WordPress plugin to add placeholders, or you can copy paste the code snippets from the Ezoic dashboard, and paste them directly into your website code files.
---
Are you still deciding whether to join Ezoic or not? Stop hesitating and join now using our referral link!
---
6. Banned over Objectionable content
Ezoic has strict policies against content that is deemed offensive or inappropriate. If your website contains such content, your Ezoic account may be banned and your ads will not be shown. To fix this, you need to remove or edit any offensive or inappropriate content from your website and contact Ezoic's support team to have your account reactivated.
Ezoic will not just ban you outright, they will likely you give you a warning first, and inform you to remove that content.
---
7. Policy Violations
Violating Ezoic's policies can also lead to your account being banned and your ads not showing. To fix this, you need to read and adhere to Ezoic's policies and guidelines. If you believe that your account was banned mistakenly, you can contact Ezoic's support team for assistance.
It is also possible you were banned by Google AdSense themselves. In which case you need to check your Google AdSense account, where you should have received a message, explaining what the problem was and how to fix it.
---
Last Resorts
Always remember to contact Ezoic support if you have tried everything, and the ads are still not showing. Rest assured, they will know what to do.
---
---
In conclusion, your Ezoic ads not showing could be because of a variety of reasons. It is important to double down and quickly check