There are dozens of different Ad-Networks out there which you can use to monetize your site. One such Ad-Networks is called Ezoic, which we recently tried out on our site. This Article is a comprehensive Review on Ezoic, and how we used it to increase our earnings.
---
Review: What is Ezoic?
As we mentioned earlier, Ezoic is an Ad-Network which can display Ads from various networks on your site, earning you a good chunk of revenue.
Ezoic claims to be able to increase your earnings by about 100 – 250%. This is a pretty big claim, and according to many testimonials, this claim holds true. So how is this possible? Well, Ezoic use the power of AI and Machine Learning to determine the best possible layout, individually tailored to each user in order to maximize earnings and improve user experience.
We'll talk more about how Ezoic does this, and how much it increased my earnings, later on in the Review.
---
Ezoic Requirements
Ezoic Requirements are fairly low and simple, resulting in a large number of websites being qualified for it. The most toughest requirement is the monthly traffic, otherwise the others are fairly simple.
10,000 Monthly Visitors
Must not be banned by Google AdSense
Must be following the same policies laid down by AdSense (no inappropriate content etc.)
Unique and Original content
Organic traffic is preferred (but not compulsory)
---
The Process
There are two ways that you'll end up getting into the Ezoic Program. Either you will be invited specifically by one of their representatives, or you can go and apply directly to them. Ezoic's customer support is fairly quick with responding, so expect your application to be accepted/rejected within 24 – 48 hours.
If you want a detailed guide on how to setup Ezoic from start to finish, check out this Ezoic setup guide.
Once you have been accepted into the Ezoic program, you need to clear a few steps before actually being able to display Ezoic Ads on your site.
Your Ezoic Representative will contact you. You can rely on him for support throughout your time with Ezoic.
You will have to clear some basic steps like connecting Google AdSense and Ezoic. Approval can take around 24 hours.
Integration between Ezoic and your site.
Settings up Ad Placeholders on your site.
Turning Traffic On.
(Optional) Turning on the Site Speed Accelerator.
Your Ezoic representative should get you through the beginning phases without any difficulty. There are some issues that can occur during Integration however, so be sure to read up on all the appropriate material before attempting it.
---
Problems with Ezoic
Before I begin talking about how much Ezoic was able to improve my earnings, like discuss some of the downsides and problems I faced while setting Ezoic up.
Integrating with Ezoic
Integrating with Ezoic was no easy task for me, and involved a week's worth of frustration, constant e-mailing and several hours of downtime. There were several reasons behind this, with the blame divided between myself, Ezoic and my hosting provider.
On my part, I had not gone through all the available tutorials, hence I had one or two options that had to be correctly configured. One of these were the SSL settings, and the other was the X-Forward-For Header that I needed to setup. Furthermore I had not removed the LightSpeed Caching Plugin that had been causing compatibility issues.
On Ezoic's part, the fact that they require so much tweaking, have so many compatibility issues, cause errors that are hard to locate almost made me give up at one point. The saving grace for me was the constant support I had from my Ezoic representative and the number of useful tutorials by Ezoic on the internet.
On my hosting providers part, they had a security system that treated Ezoic IP's as Bot traffic and put them through a Captcha page. Furthermore, a small percentage of my users also faced the infamous Origin Error. More on the Origin error in another article though.
For some, the Integration process will take no more than a few clicks, and for some it may require an hour or two of configuration You won't know until you've tried!
---
After alot of configuration and fixes however, I was able to get Ezoic up and running with almost no issues. If I had known a few things before hand, I could have avoided most of it, so be sure to read up on what settings and configurations you will need.
Was it all worth it? Read further to find out.
---
Ezoic Earnings
So here you may be wondering exactly how much Ezoic was able to increase my earnings. With Google AdSense, we earned about 4-5$ daily. Switching to Ezoic increased this all the way to about $12-15 daily, a 300% increase.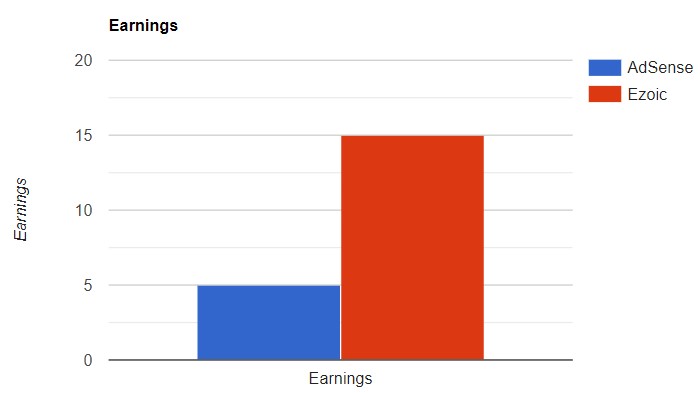 Yes, that's a very substantial increase and significantly changed the outlook of my site. One further improvement I noticed was that Ezoic's earnings fluctuate less than that of Google's. With AdSense, some days I would be earning half my usual amounts, and some days It would be double.
Ezoic is significantly more consistent, and maintains a fairly steady revenue per 1000 visitors. (Though this may fluctuate in the initial stages where the best layout is being determined).
If you want a more detailed comparison , check out this Ezoic vs Google AdSense article here.
---
Review: Other Ezoic Benefits
Improved Ad Layout: While Ezoic's AI and Machine Learning is able to accurately position Ads in suitable locations, there is a manual aspect to it as well. When placing "Placeholders", you have alot of control on where the Ad could potentially display.
Ezoic has a Chrome plugin which you can use to simply click on the areas on your site where you want Ads to display. You can also use the Code approach and simply copy paste it into your website files in the location you want them to appear.
Site Speed Accelerator: Ezoic has a whole bunch of tools and features that can be used to speed up your website. With Minifying CSS/HTML/JS, Caching for Images, Next-gen formats, Script and Ad-Delay, you can drastically improve the performance on your site.
CDN: Ezoic provides it's own built-in CDN if you used the Cloudflare integration or Nameserver option. If you are already using the Cloudflare CDN, both the Ezoic and Cloudflare CDN will work together to provide the best experience for your site.
---
How does Ezoic improve your revenue?
Now you might ask, why does Ezoic pay so much? If you've done some research of your own, you might have heard claims that Ezoic increased earnings by upto 300%. So how is this possible?
Well let me try and break it down for you and explain why Ezoic is able to increase your earnings so much. (Based off my own observations, research and experience)
Artificial Intelligence and Machine Learning:
Now while this is important and definitely helps increasing your earnings and improve user experience, it's not enough to justify a 300% increase in some cases. Let's take a look at some other factors, which often have a larger role in increasing earnings.
Increasing number of Ads:
Ezoic's goal will be to display the maximum number of Ads available on your site. If you leave the max ads option unchecked, Ezoic may display 10+ ads on your site. This i believe is a major reason for the revenue increase.
While it's fine to have many Ads, make sure they don't hurt User experience much, such as keeping several Ads in the sidebar. Too many Ads can slow your site down too, so be sure to test everything carefully.
Increasing site performance:
Another reason for increased revenue is likely behind the performance measures taken by Ezoic which you won't find with other Ad-networks. Those who already have caching plugins or CDN's may not experience any change, but those without these features will get a significant boost.
This will help improve traffic and lower bounce rates, which will undoubtedly increase revenue as well.
---
Ezoic Review Conclusion
Despite a few caveats here and there, the switch from Google AdSense to Ezoic was very much worth it. I definitely recommend others to atleast give Ezoic a shot. Worst case scenario, you can just switch back to Google AdSense and it will only take a few minutes.
If you do plan to join Ezoic, then use this referral link here, which will earn me a little commission (from Ezoic's revenue, not yours).
---
This marks the end of my Ezoic Review. If you have any questions or feedback that you wish to give, then feel free to use the comments section below or contact us at [email protected].
Good luck to all fellow publishers looking to increase their Earnings!